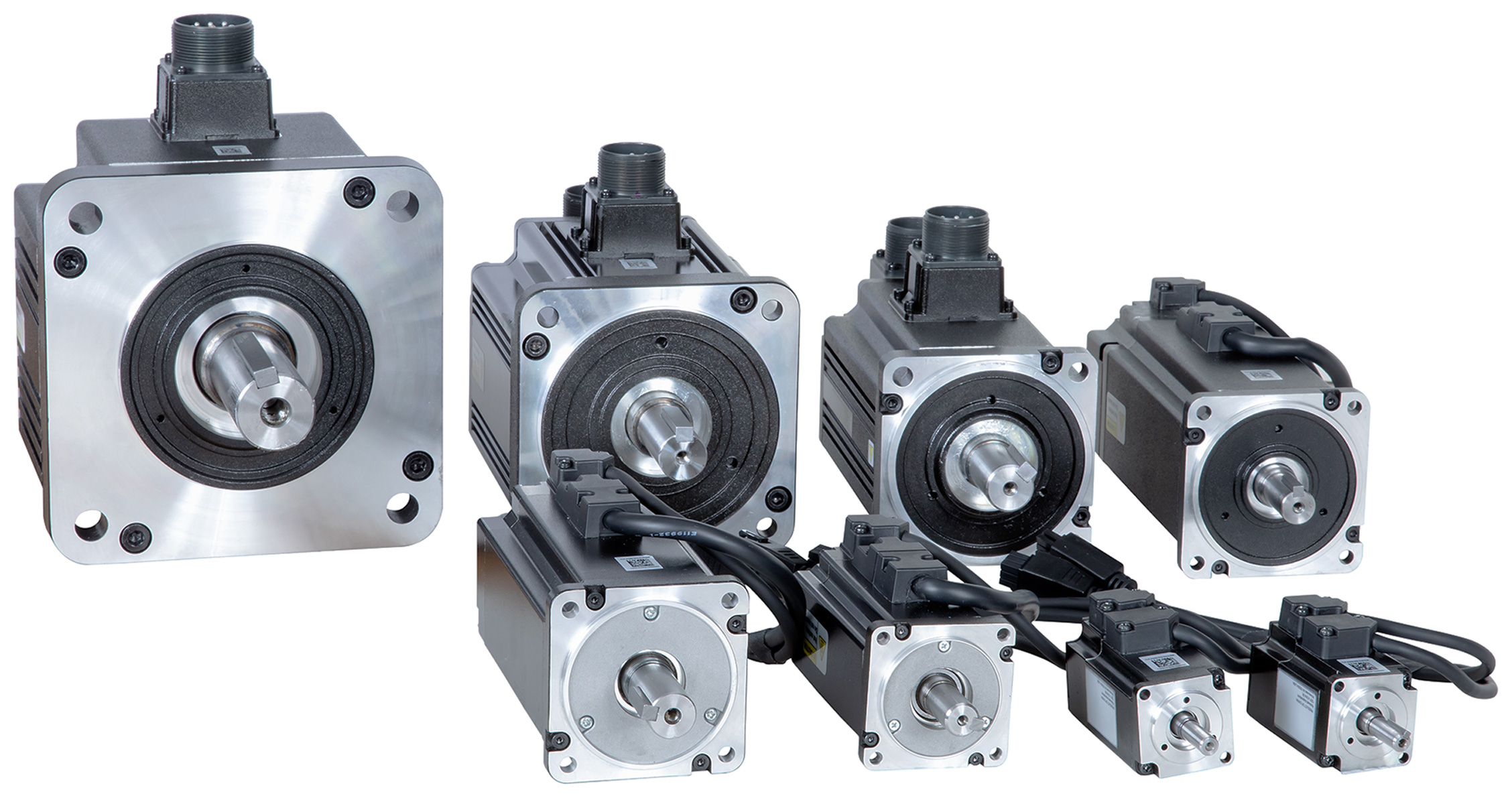 Synchronous servomotors have rotors of low inertia and intented to use at high dinamic load. Rotors are built of Neodymium ferrite magnets, which allow very high peak current values for short-time loads.
Delivered motors are equipped with TTL line drive encoders, or resolvers as a standard setup.
APM servomotors
APM servo motors are high quality Far-Eastern products. They are charcterized as having fine elaboration, high loading capacity and small size. APM motors are equipped with 3000 line/turn encoders as standard.
APM motors characteristics

APM
Model
Jm


p.cm.s2

Kt


N.m/Arms

Lp-p


mH

Rp-p


Ohm

I


Arms

BEMF


Vrms/krpm

Max
RPM
Rated
RPM
No.of
Poles
AP04 Series
SAR3A
0,0167
0,099
8,54
11,69
1,07
7,8
5000
3000
8
SAR5A
0,0245
0,142
8,274
9,434
1,2
10,6
5000
3000
8
SA01A
0,0435
0,248
6,732
6,886
1,38
12,7
5000
3000
8
AP06 Series
SB01A
0,116
0,206
7,372
2,496
1,65
13,6
5000
3000
8
SB02A
0,186
0,417
15,214
4,154
1,63
29,2
5000
3000
8
SB04A
0,327
0,46
7,32
1,64
2,89
29,5
5000
3000
8
AP08 Series
SC04A
0,688
0,471
15,22
2,418
2,82
29,3
5000
3000
8
SC06A
1,114
0,555
9,18
1,428
3,58
35,2
5000
3000
8
SC08A
1,54
0,547
5,942
0,868
4,83
35,6
5000
3000
8
SC10A
1,966
0,618
5,038
0,746
5,37
39,2
5000
3000
8
SC03D
0,688
0,575
19,604
3,198
2,59
34,2
3000
2000
8
SC05D
1,114
0,691
13,426
1,986
3,23
43,3
3000
2000
8
SC06D
1,54
0,7
9,056
1,288
3,82
44,6
3000
2000
8
SC07D
1,966
0,717
6,898
1,024
4,42
45,7
3000
2000
8
AP13 Series
SE09A
6,795
0,598
7,866
0,894
4,95
35,3
5000
3000
8
SE15A
12,244
0,594
4,11
0,408
8,23
38,6
5000
3000
8
SE22A
17,693
0,596
2,526
0,226
11,98
37,8
5000
3000
8
SE30A
23,142
0,565
1,82
0,154
17,16
37,3
5000
3000
8
SE06D
6,795
0,743
12,978
1,552
3,97
45,6
3000
2000
8
SE11D
12,244
0,855
7,764
0,772
6,28
53,1
3000
2000
8
SE16D
17,693
0,842
5,274
0,47
9,23
54,2
3000
2000
8
SE22D
23,142
0,863
3,82
0,304
12,37
53,9
3000
2000
8
SE05G
6,795
0,743
12,978
1,552
3,97
45,6
3000
1500
8
SE09G
12,244
0,855
7,764
0,772
6,47
53,1
3000
1500
8
SE13G
17,693
0,841
5,274
0,47
10
54,2
3000
1500
8
SE17G
23,142
0,863
3,82
0,304
12,75
53,9
3000
1500
8
SE03M
6,795
1,194
30,526
3,442
2,51
71
2000
1000
8
SE06M
12,244
1,427
20,066
1,886
4,15
85,8
2000
1000
8
SE09M
17,693
1,528
15,992
1,408
5,78
94,6
2000
1000
8
SE12M
23,142
1,539
10,668
0,874
7,63
90
2000
1000
8
AP18 Series
SF30A
31,35
0,604
1,724
0,11
16,7
36,7
5000
3000
8
SF50A
53,16
0,614
0,902
0,05
27,4
36,4
5000
3000
8
SF22D
31,35
0,824
3,206
0,218
13,5
49,8
3000
2000
8
SF35D
53,16
0,913
2,038
0,114
18,83
55,5
3000
2000
8
SF55D
85,24
0,905
1,14
0,06
30,25
55,6
3000
2000
8
SF75D
123,74
1,073
1,128
0,054
34,6
66,3
2500
2000
8
SF20G
31,35
0,807
3,206
0,218
14,7
79,8
3000
1500
8
SF30G
53,16
0,915
2,038
0,114
20,6
55,5
3000
1500
8
SF44G
85,24
0,913
1,14
0,06
31,75
55,6
3000
1500
8
SF12M
31,35
1,403
8,244
0,572
8,4
78,5
2000
1000
8
SF20M
53,16
1,354
4,534
0,244
14,4
81
2000
1000
8
SF30M
85,24
1,443
2,868
0,134
20,25
85
2000
1000
8
SF44M
123,74
1,371
1,876
0,086
31,24
84,1
2000
1000
8
Low- and high voltage motors

APM
Model
Output


kW

Jm


p.cm.s2

Kt


N.m/Arms

Lp-p


mH

Rp-p


Ohm

I


Arms

BEMF


Vrms/krpm

Rated
RPM
No.of
Poles
AP04 Series
SA01ACN-8
0,1
0,0435
0,142
2,132
2,556
2,38
8,1
3000
8
AP06 Series
SB02ADK-9
0,2
0,186
0,133
1,316
0,400
5,00
8,1
3000
8
SB03ADK-9
0,3
0,328
0,157
0,742
0,251
6,31
8,4
3000
8
AP08 Series
SC05ADK-9
0,5
1,114
0,171
0,660
0,160
9,62
9,4
3000
8
SC06ADK-52
0,6
1,114
0,82
14,932
2,887
2,46
51,4
3000
8
SC08ADK-52
0,8
1,540
0,86
10,337
1,811
3,14
54,7
3000
8
AP13 Series
SE09AEK-52
0,9
6,795
0,85
17,797
1,921
3,54
55,7
3000
8
Motor groups
Power range
(KW)
Torque range
(Nm)
Supply voltage range
More
More
Small motor's
Electrical Characteristics
0,03-0,4
0,01-1,2
50 – 150 VDC
Geometry I.
Geometry II.
Medium motor's
Electrical Characteristics
0,4-0,85
1,27-3,09
150 – 200 VDC
Geometry
Large motor's
Electrical Characteristics
0,9-2,2
2,85-10,5
170 – 500 VDC
Geometry
Gear motor's
Electrical Characteristics
Geometry
Special winding motor's
Electrical Characteristics
0,1-0,9
0,3-3
20-170 VDC
Tutorial
Model identification